How to Choose the Right Food Package Bag?
Views:24 Author:Site Editor Publish Time: 2019-01-31 Origin:Site
We can see food package bags everywhere now. With the improvement of people's life quality, people use more and more food packaging bags in daily life. Bad bags lead to bad results. So, how to choose the right food packaging?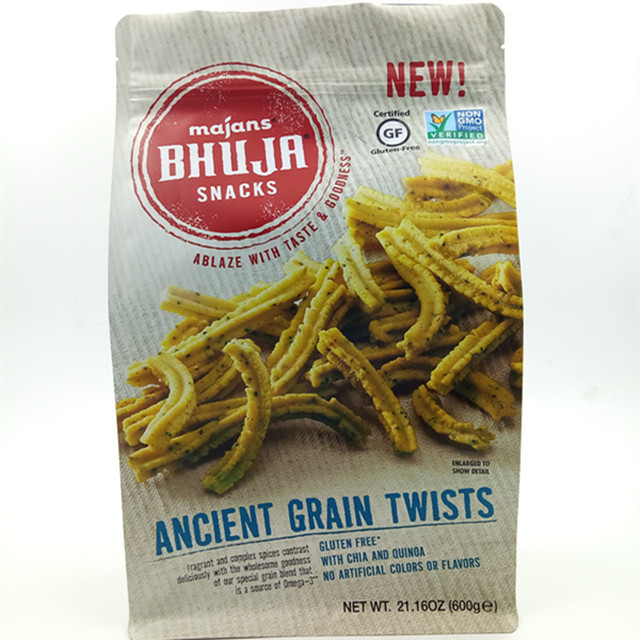 Two myths:
Myth 1:
Love to collect old food packaging bags to reuse. Many people, especially the elderly in order to save resources, used to store old food packaging bags. This common practice, in fact, is very adverse to health, not desirable.
Mistake two:
The thicker the food package = the better the thickness is greater, the better the quality of the food package? Actually otherwise, packaging bag has strict standard, especially food packaging bag, accord with the standard quality is standard, and how much thickness has nothing to do with.
Correct selection of food packaging:
1. Observe the color first do not choose and buy packaging printing fuzzy food; Secondly, hand rub printing clear packaging bags, if found easy decolorization means that its quality and materials are not good, there are unsafe factors, not optional.
2. Smell the smell do not buy pungent and pungent taste of food packaging bags.
3. Use white plastic bags to wrap food although it is recommended to use other environmentally friendly packaging instead of plastic, but in some need to use it is recommended that we try not to use red and black plastic bags. Because colored plastic bags may be recycled materials, or the use of non-decontamination treatment of natural materials and crude products production, easy to failure, deterioration, mildew or pollution, and then pollution of food.
4. The outer packaging of food vacuum bags shall have labels.
Label name, the site of factory, product name, and clearly indicated, used for food
The products are attached with the product inspection certificate after leaving the factory, the food packaging bags are relatively safe.
5. Colorful food wrappers
Dark red or black are used in the current market cannot be used in food packaging. Because this kind of packaging bags are often made of recycled plastic, kraft paper and coated kraft paper packaging bags are usually not in direct contact with food, the need to add inner bags, whether based on user experience or food safety is guaranteed.
6. The food packaging bags have no special smell when they leave the factory.
7. Try to use uncoated food packaging. In the Modern packaging design, in order to make the packaging more beautiful, corrosion resistance, factors probably extensively use of materials with coating. This not only gives the product scrap after the material recycling, reuse bring
It's difficult, and most paints are inherently toxic if people eat them. Bags of food will do great harm to people's health. In addition, the coating and plating process also brings great benefit to the environment pollution such as paint volatile toxic solvent gas, electroplating produced chromium and other heavy metal waste liquid, waste residue pollution. As a result,
Food vacuum packing bags without coating and coating should be selected as far as possible.